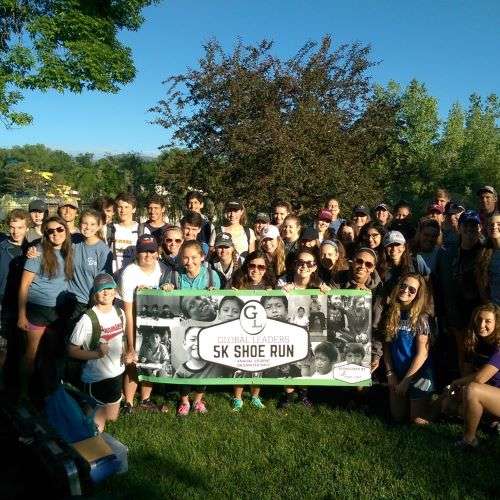 Sometimes we forget how important large-format banners are in the promotional and branding scene. In cafeterias, on the sides of buildings, outside museums, at concerts and sporting events, in parks, airports and restaurants, at trade shows and farmers markets, food courts and soccer games — banners are such a common form of advertising we can forget how useful they are.
We hope that you've already seen an ROI (return on investment) using banners with your marketing spend. Many of our customers have already told us stories of how trade show or farmers market banners have pushed sales and visibility through the roof. So rather than preach to the choir about how great banners are, instead we'll share our thoughts about what you should look for when shopping for a high-quality, custom vinyl banner.
Banner Material
When it comes to making that perfect banner that will serve you for a long time, first think about the material you'll use. Generally speaking, banners are printed on vinyl. The vinyl can have a weight from 9-oz. per square yard to 22-oz. per square yard, it can also be mesh or solid, and you can choose between scrim or regular vinyl. Choosing the right material depends on what conditions the vinyl will be used in.
In general, heavier vinyls are useful for outdoor conditions where they will need to withstand the elements. And lighter vinyls are used for indoor conditions, where reduced weight means easier handling and set-up.
A vinyl scrim is a particular substrate of vinyl that has polyester cording in it to strengthen it. For this reason, vinyl scrims are a nice mix of durability and lightness. Some large outdoor banners are printed on vinyl mesh for two reasons: 1) so that the wind can pass through the banner rather than blow the banner around in the breeze, and 2) so that people behind the banner (if it is in front of a window or on a concert stage, for instance) can see through it. If you're using your banner, say, once a week at an outdoor event, a 13- to 15-oz. vinyl scrim should work well for you.
Color & Printing Techniques on the Best Banners
Once you know what kind of vinyl you'll be using, you need to make sure that what gets printed on the surface is vibrant and beautiful and will endure. Generally, you'll be choosing between dyes and solvents for getting the color pigments onto the vinyl.
Dyes can be a great solution for short term printed materials on paper, like flyers and posters, but the disadvantage is that they fade with exposure to UV light. For this reason, we prefer solvent printing as the best solution for vinyl banners.
With solvent-based printing you're essentially tattooing the vinyl – the ink is pressed into the texture of the material itself. The solvent process protects the ink from UV deterioration so your banner will look great for years. And because it's woven into the texture, the ink will hold on a flexible surface without cracking or wearing off. We've seen vinyl banners using solvent-based inks that have held clear, vibrant colors for up to five years.
Finishing & Fastening
When shopping for a vinyl banner it is sometimes easy to overlook this all-important step. How is the vinyl finished around the edges? Will it be tied to a support, using cord and grommets in the vinyl? Or will there be a pocket sewn into the banner to pass a support structure through? Will it be laminated? Be sure to double check that the finish process will suit your use for the banner. There's nothing worse then a great-looking banner that tears because of a poor finishing job!
Size
This may sound obvious, but when it comes to banners, size matters…a lot! It's important to strike that perfect balance between big and bold, but not unruly and overpowering. Take a look at the size of the space you have. Consider how far away, on average, people will be when they look at it and think about what letter size is legible from that distance. Consider also how it will be held up and whether there will be wind blowing it around all day. Try printing out large letters on computer paper and looking at them from a distance to get a sense of what is legible. Getting the size just right makes your banner look appropriate in its environment.
Give us a ring, and you'll end up with a great banner.
Here at Leapin' Lizard Labels we'd be happy to chat with you about creating a custom vinyl banner for your needs. We offer vinyl scrim in 13-oz. with gloss or matte finishes, and we offer a smooth matte 15-oz. vinyl. We use ecological, solvent-based ink for images that last years, but are easy on the environment. Let's talk about your vinyl banner today!
Save
Save
Save
Save
Save
Save