Eco-Friendly Printing
In a few weeks the UN will hold a climate change conference in Paris in which they hope to enact a binding global agreement on climate change.
We wish them the best!
At Leapin' Lizard, we have our own binding agreement on climate change and it's been enacted for many years now. We think it's important for businesses to lead the way in holding themselves to standards that have not been imposed on them from above—especially in a business area like printing. We believe that doing our small part to reduce and reverse our negative effect on the environment helps make our world a little better.
Business-Wide Tactics
There are certain things that every business can do. Approach this with a little creativity and little fun and you'll see how easy it is to go green.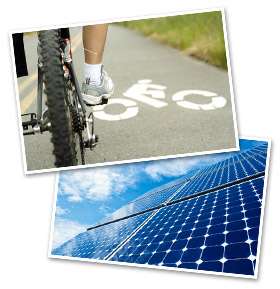 • Turn off the lights – At the end of the day, turn the lights off in the office. It's worth the minute or two of effort.
• Bike to work – It's fun, it's good for you, and it has all sorts of environmental and social benefits: reduced air pollution, less wear and tear on roads and vehicles, less traffic, less noise and better air quality. Encourage employees to bike to work by offering incentives and making sure there's a safe place to lock up. Extra points if you can provide a shower too!
• Use wind and solar energy – It's not as hard as you might think, especially in Colorado. Simply call your energy provider and ask about switching.
• Get wise about waste – Take a hard look at what you're throwing away. Could someone else use it? If so, be sure to utilize a community site like Freecycle or Craigslist to pass on items to those that can use them. Who knows, you might find something you need there too!
• Dispose of electronics responsibly – Electronics should never be thrown in the trash. Heavy metals and other compounds make them particularly harmful to landfills. Implement a company-wide electronics disposal program so that you responsibly dispose of batteries and other electronic parts.
Printing-Specific Green Tactics
• Don't use solvent-based inks – Solvents are bad. They are harmful to produce and they are harmful to breathe. We found a digital printing process that uses only water-based inks and works wonderfully. You can too!
• Do smaller runs if you can – The printing industry is notoriously wasteful. Keeping runs small and print shops agile keeps your margins lower and helps reduce unused printed material.
• Print on post-consumer recycled paper — It can do many of the same things that non-recycled paper can and it's a boon to your product at market. Consumers like to see that recycle paper is being used.
• Look at the big picture – There are a number of ways to print labels and reduce the amount of wasted material. Some innovations in liner-free labels eliminate the label backing. Others have found ways of eliminating the excess material around the printed label. Together, we can find ways of eliminating unnecessary waste.
• Try reusable packaging – Get creative and think about how you could utilize reusable packaging. For local businesses, reusable packaging that encourages customers to pay a small deposit and then return and refill their product also encourages customer loyalty. Think about it!
Even before the UN conference delivers a global plan, we can all take a hard look at our own print shops and businesses, houses and habits, and investigate ways of reducing our environmental impact. Together we can make the world a little greener. Read more about our eco-friendly label printing practices here.
Save
Save
Save
Save
Save