Trail Day at Lory State Park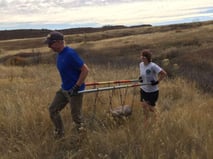 Our Leapin' Lizard Family is pretty unique! We get to have fun at work with a daily dose of laughter, have monthly potlucks that are pretty darn amazing, and random weekly parties just because, this all of course while being productive. But the best part about it all is having the joy of lighting up our clients' eyes with their own custom labels and stickers.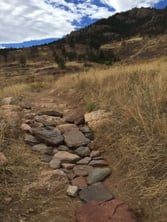 Not only do we have a whole lot of fun in the workplace but we all love to have fun in the great outdoors, that's probably all why we live in such an awesome place! Everything outside is right at our fingertips. But with this fun at our doorstep also comes environmental stewardship, and each member of our Leapin' Lizard Team has a passion for giving back to the community!
We recently went to Lory State Park, nestled up right along the front range in Fort Collins to do some volunteer trail maintenance. It was a spectacular fall day, blue skies, light breeze, and gorgeous fall golds. After a hearty breakfast of homemade breakfast burritos that Todd brought, and getting acquainted with all of the tools we were going to be using, we were off to work.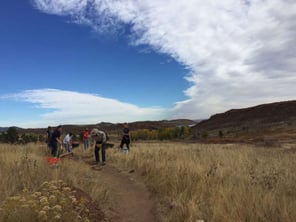 We all had a great time rock shopping for the biggest and flattest rocks we could find (laying them down on the deepest part of the trail). Then we covered the puzzle piece of rocks with a thick bed of clay, and then covered that with dirt. This is the latest technique that the park is trying for preventing erosion is such a dry climate. As hikers and bikers passed you got a sense of how much they respected the work we were doing as they would say "thank you".
Our team did such a great job and it was a wonderful team bonding experience.
If you are ever in the area, definitely check out the gem that Lory State Park is. With great views of the Front Range and the reservoir, it has so much to offer with it's hiking, mountain biking, and horseback riding trails.
Save
Save