Short Run Printing
For all small companies and entrepreneurs, this one's for you!
Starting a new business takes time, money, a ton of energy and lots of questions to be answered.
There are many steps before sending your product to market. From product testing and making sure your products are exactly the way you want them, to branding your company based on how you want to be viewed by your customer, there are a lot of steps involved. Once you are finally in production, the decision to print your own labels or get them printed professionally may be on your mind. You may be thinking that you don't want to print thousands of labels, wasting all of your money, especially if you don't have that much product. That's why short run printing is the way to go and you don't have to print your own, customized labels.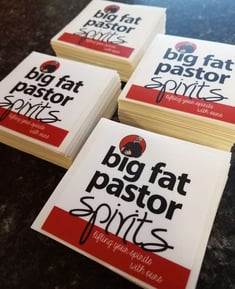 There are always changes when it comes to businesses. You may tweak your design, logo, branding or your product itself. Therefore, it is extremely important to have a label printer that doesn't have minimum order requirements. And guess what, we don't!
That's why working with Leapin' Lizard Labels is so fantastic. We purposely work with entrepreneurs and small businesses to provide small batch, short run label printing so you can take the worry out of having to pay the big bucks on your custom labels when you are first starting your business or produce small quantities in general.
So what are the positives of short run label printing?
It saves you money! Some companies have minimum order quantities that seem outrageous to small business owners especially when sometimes all you need are 25 labels.
You Can Test Your Products Easily
As we all know, buyers today are heavily influenced based on the packaging of the product. So it is really important that you have a solid grasp on the look at feel that you want your product to have. Having the ability to print your custom labels in short runs will allow you to test your products is the marketplace. It will allow you to see which labels are driving sales and which are not, to make an educated decision.
No More Inventory Waste
If you order 10,000 labels but only plan on using 5,000, your just wasted your cash, when you could have put that money to something more valuable in your business. When you order short runs of your labels you don't have to worry about wasting inventory.
Stay Current
The market is ever changing and what drives consumers to purchase is also ever changing. Having the ability to print short runs can come in handy when you need to make those quick decisions in changing your product labels.
Seasonal Specials
The holidays are some of the best times to capture your customers. However generally businesses will make a specialty product with a seasonal label. Chances are you are not going to want to use it for the next holiday season. Short run printing will allow you to print low quantities, saving you money but also allows you to give your customers specialized products.
One of a Kind Feel
If you are a company that only produces small quantities of goods at a given time to give your customer a one-of-a-kind feel, this is where short run printing comes into play! You can order just the amount you need without sacrificing your whole paycheck. It allows you to be creative with your products and labels.
When you order with Leapin' Lizard Labels, we have:
No minimum order requirements
No set up fees
No extra charge for colors or custom cuts
Free proofs
2-3 day turnaround
You can find out more about our custom labels and stickers here or contact us today. We would love to work with you!