When I peruse the wine section of my local liquor store, I, admittedly, don't look at descriptions—at least not right off the bat. It's a cardinal sin, but a sin I commit gladly and openly—I always look at a wine bottle label first; I judge a book by its proverbial cover. I calculate that the weighting of my wine selection decisions is thus: 35 percent of my decision making goes towards the price of the wine (I'm not a top-shelf buyer, if you catch my drift.). 30 percent goes towards the label of the bottle (I'm a sucker for good design). 29 percent of my decision goes towards the type of wine I'm drinking (I favor merlot, zins, cabs, and occasionally pinot.). 5 percent of my decision goes towards the description, the wine rating, whether or not it's a staff favorite, and if it's on sale.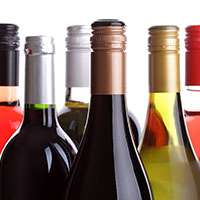 Finally, 1 percent of my decision is purely random/magical… "That bottle is too dusty." "This bottle will make a great gift if I don't drink it first." "Wait, where's the gin?"
[Also, on a side note, 100 percent of my decision depends on the color of the wine—I only drink red*. Sorry.]
*Exception: Champagne
So, in short, when you're dealing with a customer such as myself, design counts. So let's talk turkey and dig into some of the best wine bottle designs that I've come across, and why I found them attractive—or, to put it another way—let's dig into some pseudo-subjective tips that I've compiled, which you can employ to design the ultimate wine bottle label.
---
Shapes Are In
Long gone are the days of rectangles and circles (OK, rectangular and circular wine labels still rule the market.). However, winemakers are emboldening their labels with odd and intricate shapes. I've seen label shapes ranging from grapes to squid and from butterflies to boars. So opt for an owl or an octagon instead of the more-traditional, less-fun square. Need a specialized printer for irregular-shaped labels? Well, excuse the shameless plug, but that's exactly what we provide here at Leapin' Lizard Labels. We print custom product labels, including wine bottle labels, in all sorts of shapes and sizes!
---

Color Counts
Now, color is equally as important as bottle shape. Consider your backdrop—actually, consider the two backdrops that you'll have behind your wine bottle label: First, the color of the bottle when it is full. And second, the color of the bottle when it is empty. With a red wine, your bottle may be dark maroon to start, and it may be green once everyone is satiated. With a white, or rosé, your bottle will likely start a transparent blush or yellow-tan color, but the empty will be clear, yellow, or olive colored. So, what colors compliment your bottle and wine? Perhaps a complex black emblem would look best—it'll be discrete when the bottle is a dark maroon. Then, as those consumers of yours indulge in the grape, the subtle emblem will reveal its complexity against a green, backlit bottle.
---
The Undying Simplicity-Complexity Argument
There's a balance to be struck between simplicity and complexity in wine label design. While a simple design may be memorable, and simple brands stick (take the red and white Coca-Cola® emblem for instance), complex brands may better draw the eye.
So what's right for your wine?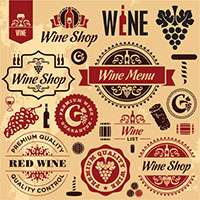 Well, design trends towards simplicity these days. Take a look at the Starbucks® logo progression. Way back in 1971, Starbucks products featured a half-nude "siren," (which really just looks like a double-tailed mermaid). The design is quite complex—you can't really grasp what the logo is until it's right under your nose. Then, 1987 came along and Starbucks simplified the siren (while tastefully rearranging the siren's hair), plus they cut out two words from their logo: "TEA" and "SPICES." Yet that wasn't simple enough. In 1992, Starbucks chose to zoom in on their siren, effectively lopping off her lower limbs. We were left with a black, white, and green emblem of a crowned woman and the words "STARBUCKS" and "COFFEE." Finally, in 2011, Starbucks made one more shift towards simplicity. The logo solely features the siren, the words have been dropped altogether (a sign of an uber-successful brand), and the emblem is a monochromatic green. If the design were any simpler and we'd be left with a green dot. You can learn more about the Starbucks logo design changes on Quora.
Starbucks, among other companies, have shifted towards simple designs because they're instantly recognizable. When you see a coke, you can hear the sound of its fizz. When you see a green siren, you think coffee. However, while simple design is quick to draw the eye, and it's good branding for big business, it may not be the best choice for your wine.
Here's why:
Wine isn't coffee or soda. For that matter, it isn't beer, but beer is a bit closer. What I mean to say is that wine is sophisticated. It's complex. It's not just syrup, coloring, and carbonated water. It's not boiled coffee grounds. It's crafted with unique grapes, unique techniques, and passion. Like beer, there are connoisseurs who live for the stuff. And these connoisseurs even have a name: Sommeliers. These wine specialists judge wine flavor as a career.
So, while it's tempting to keep with the times with a sleek, simple, modern label, your wine may be losing its voice. A detailed, weather-battered, wicked tree may be more captivating than a simple leaf. Yet a simple leaf may ensure that your customers come back for more. Who knows? There are no proverbial fixed lines in the design world. There's no black and white. You may be better off flipping a coin, because it's the undying simplicity-complexity argument.
---

Leapin' Lizard Labels' Wine Labels
Regardless of where that hypothetical coin lands, we're here to help you turn your design concept into a reality. Count on Leapin' Lizard Labels for your next wine label printing. We print custom wine labels in all sorts of colors, shapes, and sizes. Learn more about our custom labels and stickers!