Welcome back dear reader! In some of our most recent articles, we've been talking tact when it comes to designing your labels for your products. We've covered wine, coffee, and beer labels—so naturally, it's time to move onto hot sauce labels to round out all of the products that you can drink (That's a joke, please don't drink hot sauce, just use it liberally with your food.). Designing the ultimate personalized hot sauce label isn't an exact science, but there are some tips you can employ to make your design (pardon the pun) hot. Let's dig in.
Color, Flavor, and Spice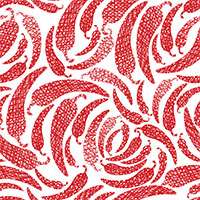 The color of your bottle can reflect its flavor and spice level. If you have a particularly hot hot sauce, red is the popular choice. However, black can also show that your hot sauce means business. Have a more mild flavor? Well, you can choose a more mild color. Let's say that you have a green sauce that's tomatillo based; it's pretty mild on the heat scale. Now, there are several options: You can match that green color with your label for that unique monotone look. Or, if you prefer, you might opt for purple—it's another secondary color (along with orange), and it is a "cool" color (blue, green, and purple are considered cool colors). Maybe you decide on a purple label with a green border (to match the sauce), and orange text (to show that your sauce still has a little kick).
Focus on Font
Your font speaks volumes about your flavor. If you have a melt-your-mouth theme for your hot sauce, look for a font whose letters are melting. Have a smoky flavor? Opt for charred grey text. Or, if your hot sauce is fire-hot, well, look for font with lettering that is on fire. Hot sauce label fonts can be exciting, bold, and unique.
Branding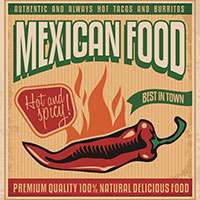 As is true with any product, your branding should be instantly recognizable. If you have a line of hot sauces, plan on building out a branding strategy that makes sense. Most often, hot sauce makers keep a logo that shows up throughout their catalog of hot sauces. You can also opt for a color scheme, font, pattern, and label shape that's synonymous with your brand. Branding is important for two reasons: One, you'll attract new clients if your branding is strong and appealing. And two, returning clients will recognize your brand with a quick scan of the hot sauce section.
What Does Successful Branding Look Like?
Well, for me, personally, I recognize brands like Tabasco®, Sriracha, and Frank's RedHot®. Tabasco uses label and logo shape to earn the title of "instantly recognizable." When I see a triangle with a circle of green text, I know that Tabasco is soon to cover my food. Sriracha (by Huy Fong Foods Inc.), features a distinguished, simple logo: A chicken. In addition, the shape of the bottle and the bright green tip (which perfectly compliments the smooth red of Sriracha) also make this hot sauce brand a success.
On a side note, if you don't know the Sriracha brand, it is displayed rather prominently on their site.
As for Frank's, the bottle shape and text make a statement, and that statement is "This is Frank's; welcome back." You can recognize all varieties of Frank's RedHot by that exact same bottle shape as well as the bold lettering on the label.
In short, your brand should make shoppers say one of two things. New buyers will say, "Ooooh, that looks good." Return customers will say, "Ahhhhh, there it is."
Sell Your Sauce With Words
Be funny. Be catchy. Be exciting. Be downright appetizing. With hot sauce names, the world is your oyster. Hot sauce names already run the gamut, from downright offensive to funny to oddly accurate.
Shapeshifting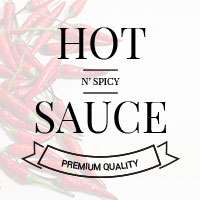 Boring ol' rectangles are out. OK, they aren't "out," but they are a dime a dozen. Changing your label shape could be enough to gain the gaze of passersby. Opt for the shape of a flame for your hottest sauce. If your hot sauce is "out of this world," go for a rocket ship shape. Oh, your sauce is pepper based, right? Why not make a label in the shape of a pepper? Here at Leapin' Lizard Labels, we custom print labels in all sorts of shapes and sizes; you might as well take advantage of our unique printing process!
Make Each Label Unique
If you offer a line of sauces, make each label stand alone. While branding is important, it's equally as important to make your labels unique to themselves. Take Frank's once again. Each RedHot variety features a different color and a different font which reveals the name of the unique hot sauce behind the label.
Now, this is where the good design of Frank's comes to an end. There's so much room to get creative with your labels, even if you're trying to retain a sense of branding. Frank's labels are unfortunately rather boring, regardless of the type of RedHot that you choose. Instead of the same old rigmarole, branch out and opt for a hand-drawn, tattoo-like design. Is your hot sauce inspired by Mexican flavor? Slap a traditional calavera design on your bottle. Not your style? Go modern, and let your label stand out with a geometric pattern. Speaking of standing out…
Great Hot Sauce Bottle Designs Stand Out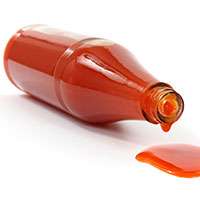 To sum up, great bottle designs should stand out. It doesn't matter how you do it, just do it. Your design should stand out to attract hot sauce perusers. As we've mentioned, it could be the shape of your bottle, the shape of the label, the cap of the bottle, the name of the sauce, and of course, it could be the design on the label itself. Get square bottles for your unique hot sauce. Or make the cap a unique wooden cork (like Cholula®). Make your name stick—I think "Pick Your Poison" is a pretty good hot sauce name. Above all, make your design count. There are dozens of hot sauces lining grocery store shelves. How do you make yours shine?
---
Leapin' Lizard Labels

When you've settled on a design, you can always count on us to custom print your labels. We print all sorts of product labels, including labels in every shape, size, and color you can imagine. We print to custom order sizes as well, so you can order one label if you'd like, or one hundred thousand. We also offer a variety of label materials, so you can find the perfect label type to fit your hot sauce bottle. Order your custom labels and get in touch with us if you have any questions about our label making process!