Your honey is getting quite the buzz. Folks flock for a taste of that sweet, locally produced nectar of yours. And this year, you've had two more colonies form, so business is booming. In fact, you have a surplus of honey. So it's time to expand your operations. You're targeting local grocery shops, coffee and tea houses, farmer's markets, and the like. And now that you have a robust supply of honey, it's time to improve your packaging.
The reused plastic bottles aren't going to cut it any more.
Instead, it's time to go with glass jars (possibly hexagonal?), a bronze colored metal lid, and each jar comes with a honey swizzle stick (your signature). But what about your label? A swath of masking tape with the word HONEY scrawled across in permanent marker won't do. It's time to get a professionally produced label for your honey jars. But what makes a good honey label? Well, that's precisely the topic of discussion in today's blog. We're addressing some tips that you can employ to make the ultimate, completely custom honey label to suit your premium honey products.
---
Think Honey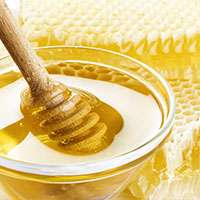 Designing a honey label provides so much opportunity to get creative. After all, honey is loaded with imagery already. When people think about honey, they think about bees, beehives, flowers, honeycomb, beekeepers, bee boxes, swarms, and of course, bears. These images provide loads of potential for innovative honey label designs. Design a label that's full of hexagons to mimic that famous honeycomb shape. Or design a label with a field of wildflowers, a fruit tree, and a delicately hanging beehive. Not your style? You can skip all of the normal honey symbols, and just stick to a label with simple text, and an elegant outline—the honey speaks for itself.
Color Coordinate
Honey is naturally beautiful. It's gorgeous golden hue speaks to the flavor of one of nature's best products. So don't hide the beauty of your honey! Simply accent that golden goodness with the right label color. Folks often opt for yellow and gold labels. However, black labels, white labels, and transparent labels also look great. If you're feeling especially bold, you can opt to use purple, since it's a complimentary color in comparison with honey.
Shift Your Shape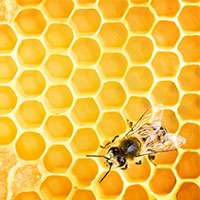 Most honey makers use rectangular labels, and there's certainly nothing wrong with that. That said, you can get creative with your label shape. Once again, honeycomb shapes are popular. Or you can go with a beehive shape. Really want to stand out? Go with a bee shaped label.
Take note, we custom print labels here at Leapin' Lizard Labels, and we can print labels in almost any size and shape!
Text Talks
The right font can attract clients like a—well—like a bee to a flower. Select the right font to communicate that your honey is the best money can buy. If you're a modernist, stick to a simple font; Helvetica® always looks good. Or if you're a minimalist, you might opt for Calibri® font, with all lowercase lettering. Want that organic look? Go with a cursive font, or a font with big, bold, friendly letters.
Just be sure to make your label legible and stylish. Most successful labels utilize one or two fonts at most. You can read more font selection tips from one of our previous blogs.

Don't Forget Required Information
As with any food product, the FDA requires that you prominently display some information. Be sure to include the weight of the contents, contact information for the honey maker, and the word Honey. You can see a full guideline of labeling rules from the FDA's site.

Leapin' Lizard Honey Labels
Okay, have you settled on a honey label design? Are you ready to get started? Well, count on Leapin' Lizard Labels. As label makers, we're ecstatic to work with honey makers—and yes, that did rhyme. Learn more about our custom label printing services, and get a free quote to get started! We can print as many or as few labels as you'd like, which makes our label printing outfit one of the most affordable that you can find! We look forward to printing your next batch of labels!