As a candlemaker, you know that the scent of your candles is enough to sell your product. However, you still have to entice new buyers to pick up your candle for a good whiff in the first place. That's why it's so crucial to pair your delightful candles with a label to match the quality of your product. Your custom candle label will help you to capture your clientele. So let's talk candle label design. Here's our two cents:
---
Materials Count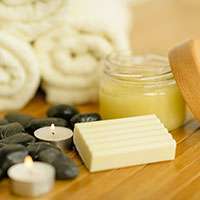 What are the materials that you're working with? While most candles are poured in glass containers, others are poured in metal or plastic. Some are solid colored and opaque, while others are transparent, and additional candles are shiny. A clean, simple, off-white label might look great against a copper tin candle, but that same label might get washed out against a transparent plastic. So select your candle label to match its material.
Think Simple But Elegant
Now, there's no steadfast rule on candle design, but in my experience, simple works. A clean, legible label with a flourish of design can capture the eye, communicate the scent and feel of the candle, and entice buyers to pick your candle off the shelf. If you have a lavender candle, for instance, you might have an eggshell-colored label, with thin, spread out Helvetica® text, and a small watercolor rendering of the flower.
If that's not your idea of a good label, consider a clear label with simple text. Or perhaps opt to design labels that have a thin border, or a flock of birds, or a few leaves caught in the wind. Even simple black and white labels can be more attractive than more complex designs (but there are certainly exceptions!).
Coordinate Colors & Smells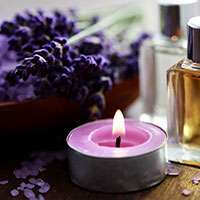 If you have a Christmas-themed candle, it makes sense to go for a label with greens and reds. The same theory holds true for a variety of other applications. Consider the scent of your candle. If you have a sweet scent, you might opt for a candy-colored label. If it's a candle that releases a vanilla scent, you might opt for that vanilla ice cream color (including those vanilla bean specks). If it's a coffee-scented candle, you can opt for creamy browns, or a dark espresso bean color. The color of your label can speak volumes about the candle behind it.
Build a Brand
As you would with any product line, it's important to build a brand for your candles. Think about it, brands make products recognizable. You can tell a Coke bottle is a Coke bottle, even if you were 30 yards away and there was a dense fog. It's smart to strive to create the same effect with your candle labels. Now, building a brand doesn't mean you have to come up with an actual logo for your company or candle line. Nor does it mean that you need to reuse specific text. You can create a brand by making any part of your product uniform throughout your entire product line. For instance, you may have a line of candles that are built out of unique, little bottles. The labels can be completely different throughout the product line, because the shapes of the bottles themselves act as your branding. You can also stick to more typical forms of branding. Perhaps you'd like to make your candles stand out with an image—you've decided that a woodpecker will make a memorable brand. Or, instead, you might choose to utilize a specific font, perhaps a large, bold cursive that proudly displays your company name (we'll talk more about font in a second). You can even make the shape of your label speak to your brand (once again, more on this topic in a sec).
In short, it doesn't matter how you brand your candle products, as long as you do it.
What Does Your Font Say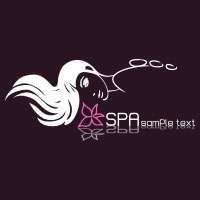 Your font can say a lot about your candles. Your font gives your words and your company name a voice. As we mentioned in another article, we titled It's All About The Font, what font you use and how the type appears on the label are of the utmost importance. Pick a font that has style. If your candles are big and bold, pick a font that is big and bold. If you have candles that are subtle and unique, a simple font might work wonders on your label.
Also, pick a font that is readable (yes, even that large, bold cursive must be legible). Ensure that your font has high contrast with the background, and make sure that you have a consistent font theme (one font style is best, while two or more can muddle the composition of the label). Consider the spacing of your text characters, and the size of your text as well.
Get Creative With Your Label Shape
It's one of the simplest, most effective ways to make your line of candles stand out: change up the shape of your labels. Circles and squares are fine, but you can really get creative with your label. Consider an eight-sided star, or a hexagon. Or, if you'd prefer, you can make your label shape match the shape of your logo (which you've decided will be a lion fish).
Take note, we custom print labels of all shapes and sizes, and there's no additional expense if you choose to use a unique shape!
Warnings & Instructions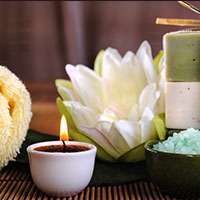 Don't forget, you'll need to print off warning labels as well! As the National Candle Association (NCA) points out, "Every candle should have a cautionary label or tag listing the three key rules for candle fire-safety." Those three rules are outlined in the Cautionary Labeling Standard (ASTM F-2058); NCA cites, "This standard sets forth specifications for the warning label that cautions consumers to always burn a candle within sight; to keep candles away from things that can catch fire; and to keep candles out of the reach of children." Most candle makers print an ASTM-compliant label to adhere to the bottoms of their candles. You can read more about candle label requirements and recommendations from the NCA.

Leapin' Lizard Candle Labels
Have a label designed? Ready to print? Perfect. We're ready too. You can count on the team of label-printing experts here at Leapin' Lizard Labels to print your custom labels. We work with a variety of label materials, and we can print in any shape you desire. We're proud to be a Colorado-based, eco-friendly label printing company. Call us to get started!