Whether you recently founded your company and your product has just been finalized or you have been in the industry for years but realize your product labels look outdated, your product label design is one of the most important factors in marketing the product inside. If you have decided that designing a product label falls outside your area of expertise, it might be time to work with a professional graphic designer to create the perfect product label.
However, letting go of this big part of your company's image can feel overwhelming. If you need to work with a graphic designer but you want to ensure you end up with the label you want, utilize these tips.
Start With a List of Must-Haves
The first thing to do is sit down and make a list of what you absolutely want to be included with your product label. While your graphic designer will be able to help pull together important elements and create a visually appealing label, they can't read your mind and they don't know your product as well as you do.
Start by answering the following questions:
Are there specific colors I want to be incorporated or ones to avoid? If you already have brand colors chosen, make sure you provide this information to your designer.
Do I want any elements from my existing design implemented in the new design? This can be helpful if you already have a label and you are simply updating your look.
Is there a specific style of artwork I prefer for my labels? Chat with your designer about other labels you have seen that you like and what it is about the artwork that catches your eye.
Do I have a font or other brand guidelines to incorporate? Any brand guidelines should be handed over upfront in order to prevent an off-brand label.
Is there specific messaging that must be included? For example, if you have an ingredient list, a company address, or other important information that has to make the cut, let your designer know from the start.
You are the expert on your product and you have the best handle on what your audience is looking for. Make sure that you create an extensive list of things that will be important for you to see in the end label design. Don't be afraid to get detailed in what you want. While you might have to compromise on some things, starting off with a list of what you are expecting will help keep communication clear and ensure your designer knows what you have in mind.
Be Honest With Your Feedback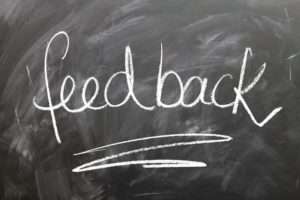 As your graphic designer provides you with the first round of product label designs, make sure you are open and honest with your feedback. Holding back your thoughts will only lead to your own disappointment in the end. Clear and detailed responses can go a long way in helping your graphic designer understand what you love, what could be tweaked, and what needs to go.
It can help to spend enough time working through your own thoughts about the designs you are presented with before diving into feedback. A vague statement of "somethings just not right" won't be as helpful as an "I think that the font isn't in sync with our brand overall." Take the time to make your feedback insightful and useful in achieving the end result you want.
Have an Open Mind to New Ideas
One of the great things about working with a graphic design artist is that they bring a special level of expertise to the table. Just as you have your own unique set of skills that you have gained through working in your industry, a graphic designer will be able to share input that you might never have thought about.
When you are presented with new ideas, even ones that seem way out of your comfort zone, keep an open mind. Try to listen carefully to the reasons your graphic design artist thinks these ideas might be helpful for your product. Take the time to consider label ideas that are new to you. The more you can keep an open mind, the better chance you have of achieving a truly unique and perfect fit for your product.

Only Settle When You're Fully Happy
Lastly, while you want to keep an open mind and consider ideas outside of your realm of comfort, make sure that when you finally land upon a design you are 100 percent pleased with it. Don't settle for less, as your product label will be the very first thing your customers see.
If it takes a few rounds before you have exactly what you want, that is ok! A good graphic designer will understand how important it is to end up with the perfect product label for your brand. Make sure that when you order your first round of labels, you are excited to place them on your product and confident in how they look.
---
Work With the Team at Leapin' Lizard Labels
If you are on the hunt for a label printing company that can not only handle custom printing but can also assist you with label design, we are the team to call. We will work with you to create the perfect product label for your needs, ensuring you are excited about the end result.
Once you have chosen the design you love, we can work with you from start to finish on fulfilling your custom label order. We utilize premium quality materials, which ensure that the custom label stickers you end up with will be the perfect fit for your product. Talk to our custom label printing company today to learn more about how we can help you with designing and printing custom labels for your business.