Whether you sell through Amazon, Etsy, or your own website, it's important to impress your clients with high-quality packaging that matches your high-quality products. In a world where folks order all sorts of things online, product packaging is one way to stand out from competitors, and it's an excellent way to earn further clientele through social media, as long as your packaging is share-worthy. So how do you make the most of the unboxing experience for your product or product line? Well, we have a few tips you can employ to impress your buyers, and earn new customers. But before we dig in, let's delve a bit deeper into why the unboxing experience is so crucial.
Better Unboxing for a Better Bottom Line
You may ask yourself, is better packaging worth it? While your first instinct may be to answer "no," since good product packaging may seem like an unnecessary expense, it's wise to think about your customer experience as an opportunity to win more sales and more profits. Studies show that impressive packaging earns return clients, and it helps to earn new clients.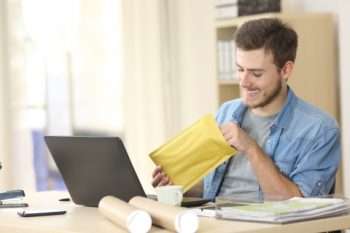 In order to retain current clients, companies rely on a brand image that sticks in their current clients' minds. Unboxing a product is a crucial part of creating a brand image. You can either create a professional brand image, or you can leave your customers with a bad taste in their mouths. While a product may simply be tossed in a cardboard box with a few packing peanuts, the same product may have a far more positive impact when carefully packaged, when packaged with materials that suit the product, and when packaged with a product label that looks professional and enticing. Companies are even going above and beyond to add personal touches to their product packaging to truly make the unboxing experience one-of-a-kind. For example, you might include a hand-written thank-you note with the handmade wallets that you sell on Etsy.
And, as we mentioned, that one-of-a-kind experience can make your unboxing experience share-worthy. Impressive packaging can build anticipation for your clients, making the experience of opening your product something they want to talk about. You may find that your clients post an unboxing experience on Facebook, giving you loads of value in word-of-mouth advertising. There's no better form of advertising than a heartfelt testimonial from a client, and the packaging experience can work wonders to turn your clients into active advertisers. So, how can you up your unboxing game?
Tips to Improve Your Unboxing Experience
Premier Packaging and Product Labels
Opt to give your clients an experience that's memorable with premier packaging and a product label to match. Instead of opting for a cardboard box, invest in custom packaging that makes your product identifiable, the moment it reaches your clients' doorsteps. Be sure that your packaging fits your product well (and keeps it from damage in transit), make sure your product label speaks to the quality of the product behind the label, and ensure that your brand is instantly recognizable. As always, you can count on Leapin' Lizard Labels to make the perfect product label for your unboxing experience!
Freebies
A freebie or two can be a delightful addition to a product that's already delivering satisfaction. Add a free lip balm to each cosmetic product you send out. Or include a guitar pick with the guitar strings you sell. Even the smallest freebie can have a huge impact. That little extra can go a long way!
Care
How you package your product may be as important as the packaging itself. That's doubly true if you have a product that is fragile or especially expensive. Give your clients the assurance that their new product made the journey from your business unscathed. Use plenty of filler and pack products appropriately for fragile products. Expensive products should also be packed with care, and possibly specialized packaging that is form-fitting to better protect the item. Clients will see the professionalism and care in your packaging, building even greater confidence in your brand. Plus, you'll get less returns of damaged items!
Custom Stickers
Toss in a couple brand stickers with every product that leaves the production line. Your clients can pin your stickers to their laptops, car bumpers, water bottles — you name it. With a cool, eye catching sticker, you'll impress your buyers, and gain a bit of nearly free advertising. Of course, we create custom stickers here at Leapin' Lizard Labels, too!

Impactful Labels and Stickers
As we mentioned, Leapin' Lizard Labels is here to help you with your premier product labels and custom stickers. We print labels of all shapes and sizes, on a variety of materials, so you can create a label that truly sticks. Getting started is easy, just send us your artwork and we'd be happy to provide you with a free proof. Call today to learn more!