So you're creating a product and you're new to labels? Don't worry, we're here to help!
Great product packaging is a hallmark of creating or selling any product you're proud of. Custom product labels, like the kind we print every day here at Leapin' Lizard Labels, are just one small part of the world that exists to make you and your brand stick with customers.
The best product labels, however, are the ones that stand out with attention to all of the details, not just a catchy image or logo. For your product, this means your label looks exactly how you designed it, sticks perfectly to the product itself, and lasts as long as it is supposed to for your customers to enjoy the product they've purchased.
What is a custom label, exactly?
A custom label is exactly what it sounds like — a label — obvious, right? But what we're talking about today is a label or sticker product custom-designed and tailored to your specific product and business needs. And when it comes to product labels, we all know good and bad ones when we find them.
Pick up a product with a label near you, and think about the following.
If you peel the label, did it come off too easily? Was there residue behind?
What would happen if you froze this label? Or what if it sat in a hot car?
How does it feel to touch the label? What kind of finish is applied?
Can you tell what material it's printed on?
Is it easy to read? What kind of colors are involved?
Are there any category-specific details, like nutritional info or regulatory disclaimers?
These are the kinds of details your customers will notice every time they pick up your product and that inevitably reflect back on your brand and product. How that experience plays out and how people feel about your product — good, bad, or indifferent — depends on the decisions you make during label design and production.

I want custom labels, but I don't know where to start!
A good label printing company or a great designer will probably engage in some back-and-forth discovery questions to help you figure out what you want in a custom label. This isn't because they're stupid (or vice versa, that they think you're stupid), but it's a result of their expertise in bringing brands' ideas to life through labels. They know what works best and they want to help you succeed.
If they don't, here's a short list of starter questions that might be helpful:
Beyond selling the product, what else does your label need to do? What is its purpose?
Does your design include important brand protection and/or anti-counterfeiting features?
How many labels will you need?
On what kind of surface will your labels be applied?
Does your label design include a barcode of some sort, in addition to your brand info?
Not all custom labels are the same!
Familiarize yourself with the different parts of a custom printed label and what they mean to your printer.
Not all printers use the same terminology when talking about each part of the label printing or design process. But, as you become more personally educated about what goes into making your custom labels, this information will help you differentiate between printers to find the company best-suited to delivering a label product that best meets your needs.
Consider the following example, which we use here at Leapin' Lizard Labels as a starting point to understand how custom labels are put together using a variety of materials and processes.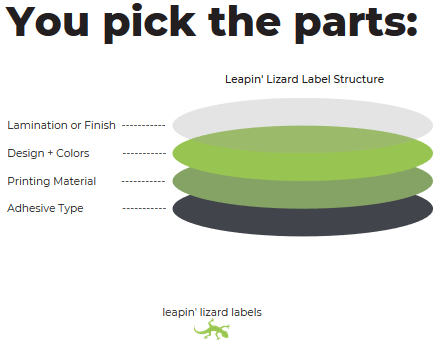 You may find similar diagrams with other printers that use other labels for each portion of the label itself, but you will at least be able to better understand and identify each portion as you're building your own labels with this simple guide.
Lamination or finish refers to the topmost coating applied to your label. Other printers may also refer to this layer as a 'coating' because it is the part your fingers are most likely to use in determining the texture your brain associates with the label. There are many types of finishes, with the most common being laminate or varnish.
Design + Colors in the diagram above is exactly what it sounds like, the colors that, when printed together, create your image the way you want it to be seen. These inks are often made of a pigment or dye which is then suspended in a solvent to create a liquid used in printing processes. Many brands of ink also include other additives to make them easier to use, such as drying agents, waxes, or other ingredients to create special effects like a metallic-looking appearance, for example.
Printing material refers to the 'face stock,' as you may find other printers refer to it, or the material onto which your label image will be printed. A wide variety of materials are used for this step of the process, depending on the label's actual application and the needs of both the product and the customer. Example materials include paper, fabric, foil, and some plastic materials like polypropylene.
The most common printing material selected by our customers is BOPP, which stands for biaxially-oriented polypropylene, because it is an ideal printing surface and can be made into both labels and stickers.
Adhesive type refers to the sticky stuff that goes on the back of your label or sticker design, and which creates the bond between your label and product. Not all adhesives are the same, so if you have a particular kind of stickiness in mind for your product labels, be sure to talk about this topic extensively with your design and printing team!

Be sure to follow file submission requirements!
Image file types include important differences between them, which may impact how your labels look in the end if you don't follow a printer's instructions when it comes to submitting your artwork. A JPG file, for example, may adversely affect your image if you have included transparent spaces that should be cut out of the end process. Alternatively, a JPG file that is compressed too much will negatively affect the quality of your image itself by cutting out some of the finer details to achieve smaller file sizes, which means your labels will also look worse than intended.
If you're not familiar with navigating this kind of file difference and exporting art yourself, we encourage you to partner with a trusted designer or artist to help you through this part of the process. While our internal design team will help you apply some final, pre-print production shifts and adjustments, our team members are often very busy with the load of clients whose artwork does meet our requirements, which may mean there are delays in processing your order if the artwork you submit is not print-ready.
Leapin' Lizard Labels image submission requirements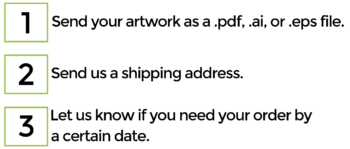 To expedite this process for our customers, here are the recommendations we send:
Send your artwork as a .pdf, .ai, or .eps file.
Higher pixel density is recommended. 300 dpi (dots per inch) is great, more is better.
Include a confirmed shipping address.
Please let us know if you absolutely need your order by a certain date.
While we cannot always accommodate rush requests, depending on your order size and our production queue, we may be able to add rush or expedited processing for a small, additional fee. Please speak with a member of our team for more information.
Other printers may have different requirements or recommendations, so its best to check with your printer first before finalizing your order.

Questions? Concerns? Not sure where to go from here?
Reach out and start a conversation with a member of our team! You can schedule a label consultation, chat with our customer service team from our home page during business hours, or even submit your own Quick Quote request to see how much your printing job will cost!
Please keep in mind that we are an all-digital printer, which means that we're most cost-effective when printing orders at scale. Higher quantities will result in the lowest cost-per-unit, but as always, your printing costs may vary depending on the specific needs of your particular order and label design. All of our label quotes are no commitment and require no payment until you're ready to print, which means it costs nothing to get started with your own custom printed labels.