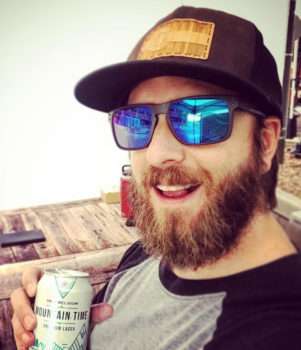 This week, our employee spotlight is featuring Cody McAllister, our Art Director! He has been with our team for seven years, and his artistry and skills are immensely valued at our company. We interviewed him to learn more about his time here at Leapin' Lizard Labels:
What is your favorite part about your job?
I would say the favorite part of my job is getting to be a part of the creative process with so many businesses small and large. I love sharing the excitement of a project with each customer and seeing the end result on their wonderful products.
What challenges have you faced, and how have you overcome them?
I think one of the greatest daily challenges can be tight deadlines. A client may come to us with a sudden project they need labels for right away. This adds a lot of pressure to our team because we always want to say yes to our customer's needs. Fortunately, we are able to communicate effectively and get the job done on most occasions.
If you could give any piece of advice to our customers, what would it be?
My advice would be to just ask us if you have any questions. We have a great team of experts in the label printing industry and no question is dumb. We are happy to help educate and recommend the best solutions for your project.
What is your driving passion for your job? What keeps you coming back to work day after day?
As a Graphic Designer, I've always been drawn to the niche of packaging design. I love visually telling the story of each company and its product. They say you can't judge a book by its cover, but you can decide to start reading the book based on the cover. That's where we come in.
What is your favorite product at LLL?
I love matte laminate. I think it adds a level of soft sophistication to our White BOPP or Silver Chrome materials.
Tell us about your favorite team experience at LLL?
I would say just the daily interaction with the team is very fulfilling. We have some employees that work remotely and some in the office. Our online chat system allows us to communicate quickly and effectively with any coworkers and the animated emojis some people come up with are fantastic!
We are so thankful for everything you do at Leapin' Lizard Labels Cody! You're a vital part of our team, and we're super thankful to have you with us at Leapin' Lizard Labels!