Did you know that today retailers rely on the manufacturers to do the heavy lifting when it comes to moving inventory?
You have a product that you've sold in to a retailer, but how do you 'sell through' for the store? They expect you to both 'sell in' and 'sell through' – both sides of the equation are vital to your survival! So, how can you help move your amazing new organic wine, sugar free toffee or body lotion off the shelf?
Best Practices in Product Sell-Through:
Consider providing several free units to the retailer to use for generous sampling in store – you know, for that perfume spritz as women walk down the cosmetics aisle or the cookie crumbles at the grocery store or co-op for the Saturday grazers.
Run demos at the store about your product in use – maybe a cooking half hour using your unique hot sauce in various recipes.
Helpful Hints Here!
Have a mailing list sign up by you during the demo and actively encourage email addresses.
While you are at it, videotape that demo and leave it with the retailer to run on a continuous loop at the new hot sauce station.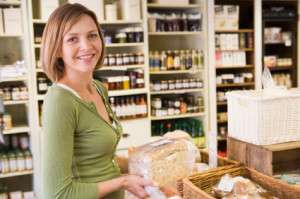 Doing sampling and demos provides much needed feedback to the manufacturer about ways to perhaps modify the product, improve the point of purchase materials you provide, and suggest line extensions you might consider in future.
Free sampling and demos also boost the appeal of the retailer in town, where rapport is built around the gifts given and the knowledge provided – all free of charge.
Other Ideas:
Get publicity for your product on your own and build a buzz. That boosts store traffic with people specifically asking for the product they saw in the local newspaper or on Facebook.
This requires you to have something to say. Remember the adage about what constitutes 'news'? News is not when a dog bites a man, but when a man bites a dog! Do you have an angle to publicize that will get your product 'ink'? Run with it!
Create attention-getting point-of-purchase materials. These are promotional flyers, posters, shelf talkers and even mobiles to be placed near your product at retail to help attract buyers. Make yours inventive, colorful, 'grabby,'(our term) and informative, and be sure they are the right size for display in the store.
Helpful Hint Here! Check out the requirements of the stores you are targeting to sell in to right from the start – customize your vinyl banner so it has the right dimensions and won't obstruct any sensors or lights.
Think about advertising and social media. If you invest some dollars in low cost tactics like ads on Google or Facebook, or even in a food blog that's highly favored, you show good faith to the retailer. If you have a mailing list, send emails out monthly to whet the appetite of your readers for your product. Even list those who stock your sauce right on the front page!
Finally, we just have to say this in all sincerity: Product labeling is HUGE in getting inventory to turn. People gravitate to the snazziest, most colorful and well-designed custom labels – believing that the product inside that visual promise is as yummy or as useful as what's depicted. Do invest in labeling! It will pay off, because retailers will re-stock if you reward them with turnover!
Save
Save
Save