Global Leaders Empowers
Leapin' Lizard recently had the opportunity to sponsor a local non-profit in Fort Collins, Global Leaders, with a banner for their 5k Shoe Run. Global Leaders is an organization that takes students on a yearlong journey of leadership development through community service. They start locally by participating within their school and local community throughout the school year. At the end of the school year, the students take a two-week service trip to Ghana or Guatemala where they build schools, plant trees, tutor local Guatemalan students, and work in a residential hospital.
Every year in preparation for their journey, Global Leader students collect donations to bring down to Guatemala. The primary donations include clothing, school supplies, but more importantly they bring down bins and bins and bins of shoes. Why you ask? What's the big deal with shoes?
• In Guatemala, kids who don't have shoes are unable to get an education.
• Boys are more than two times as likely to attend school and often have shoes, while mothers, daughters, sisters, and aunts do not.
• Most of the footwear that Guatemalans wear are not constructed well and fall apart quickly, i.e. sandals and flip-flops.
• Mayan children are much less likely to own a pair of shoes ever.
• The majority of shoes a family owns are shared between multiple members, leaving one person shoeless at times.
• More often than not in a family where they pass a pair of shoes down to multiple children, when I child grows out of a pair of shoes, they are not replaced. Instead they are left without shoes and therefore often denied access to education.
This past weekend the students of Global Leaders after coordinating and planning for the past six months, hosted a shoe run to raise money to purchase shoes for Guatemalans. We were honored to donate a custom banner to the organization's event.
Every Global Leader has a desire to make a difference locally and abroad. They are passionate about giving children in Guatemala the opportunity to get an education, knowing how important it is. Having the ability to go to school and get an education, can change the course of life for a Guatemalan family.
This year the students of Global Leaders are taking 1,112 pairs of shoes with them to Guatemala to be dispersed among the local population.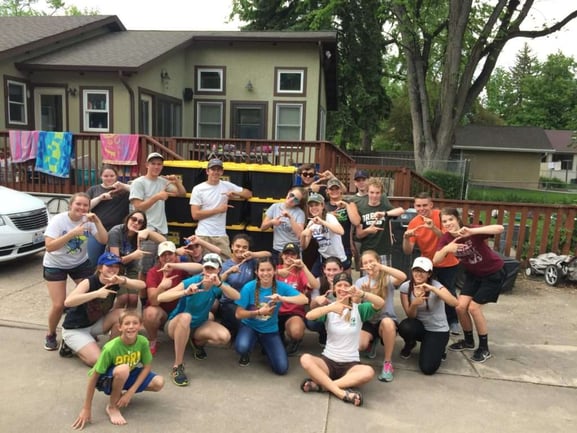 We hope they have a successful journey and we appreciate all that they do here locally and abroad.
Thank you Global Leaders!
Save
Save
Save
Save