There's no better passive advertising then handing out a handful of stickers at your concerts. Your followers will proudly display your name and logo on their laptops, their Nalgenes®, their mirrors, and their cars. That's why bands hand out stickers by the hundreds at their shows. Followers love a bit of free (or cheap) memorabilia, and they're eager to make their way to the merch table to show their passion for your music. It's smart to keep band stickers on hand to spread your name. So, how do you design a band sticker that reflects your music? Here's our two cents…

The Common Sense Stuff
First thing's first, let's cover a few of the basics. Here are some common sense tips, that are crucial to build an interest in your band, albeit a bit obvious.
Legible Name
Your band name should be recognizable, especially if you're just starting out. While you may be tempted to go the way of Prince and use a symbol for your band, we urge you to think twice when it comes to your band stickers. While you're growing in popularity, you want your band name to be prominent, so that people who haven't heard your music will at least begin to recognize your name.
Balance Your Name With Your Logo
Your band's logo is just as important as its name. Give equal weight to the logo of your band as you do with your band name. Logos draw the eye to your sticker, and both the logo and name serve to advertise your band. Often, musicians opt to merge their band name and logo to make it the whole better than a sum of the parts. You can also utilize a one of a kind font for your band name to transform it into the logo, merging the two concepts into one.

Choosing a Logo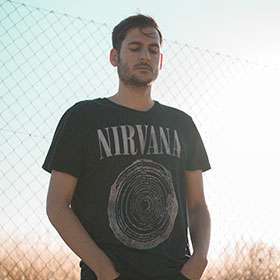 If you don't have a logo for your band yet, it's time to hit the drawing board. As we mentioned, you can always opt for a simple logo. Interesting text, and a splash of color may actually be enough to form an intriguing logo. If you're thinking of a more graphic design, then you'll have to reflect on your music and the message you want to portray with your logo. Once again, the possibilities are endless here, so feel free to get creative.
The Grateful Dead is a great case study. They have a variety of logos and images that are attached to their fame. Take the "Steal Your Face" logo by Bob Thomas and Owsley Stanley. This logo has it all (aside from lettering, which is unnecessary for a band this popular): an effective color scheme (red, white, and blue), an image that's instantly recognizable (a lightning bolt and skull), and a balanced layout. The Grateful Dead is also known for their Dancing Bears logos, made popular via their appearance on the Bear's Choice album.
Both of these logos are iconic, yet they're successful in distinct ways. The first logo (Steal Your Face), captures the essence of the title of the band, featuring a skull. Yet the second logo presents us with an interesting juxtaposition of the band's name — featuring friendly, smiling, cartoonish bears. Both logos are recognizable, vibrant, and famously successful. You can use symbolism to create your logo, or you can think outside the box, and opt for an off the wall design — we'll leave the decision to you.
Popping Colors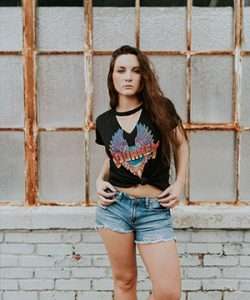 OK, let's talk color. Your color palette speaks volumes about your band, and that palette can be extremely eye-catching. Now, there's a huge amount of freedom to be had here. You can opt for a sticker with one or two colors, or you can go with a logo that features all the colors of the rainbow. Regardless, it pays to be visually striking. Consider using complimentary colors — two colors which oppose each other on the color wheel (like purple and yellow). Complimentary colors create an eye-popping contrast. You could even use simply black and white, since they contrast each other, and they'll provide a clean, distinct look. On the other hand, you might opt for an intricate array of colors. If you have a complex design in mind, feel free to get creative. Just be mindful, if your logo is too complex it can be difficult to "read" from far away. It may end up looking like a few smudges of color to those who are more than five feet away from the sticker. If you are opting to use several colors, we recommend choosing vibrant colors, since, once again, they catch the eye. Combine neon pink, seafoam green, and sunflower yellow if you'd like. Or go with all secondary colors: eggplant purple, pumpkin orange, and avocado green.
Striking Shapes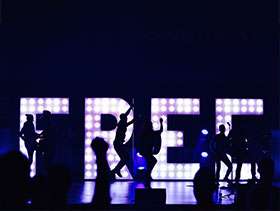 In the same way that you can gain interest in your band sticker through its logo, you can gain interest in your band stickers through the shape of the sticker itself. Your sticker shape is another opportunity for creativity, so seize it — you don't have to stick to a circle or a rectangle! Often, bands opt to have the shape of their sticker "hug" the shape of the logo. So, if you had a rocket shaped logo, for example, you'd have a rocket shaped sticker to match.
On the flip side, you might want a sticker shape that differs from your logo, which can be equally appealing. Consider the band Guns N' Roses, for instance. Their logo could prominently display their name, while the sticker is in the shape of a gun and/or rose.
Take note, however, not all print shops can print odd-shaped stickers. Don't fret though, here at Leapin' Lizard Labels, we print stickers in all shapes and sizes, so design to your heart's content.
Opt for Bumper Stickers Too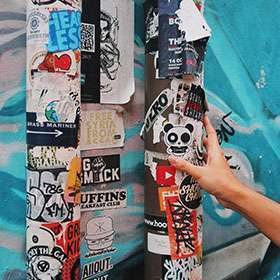 Don't forget to invest in bumper stickers — these sticky little strips can work wonders to spread the word about your band. Your followers will proudly pock their cars with your band's logo, name, and a message (if you prefer). If you are printing off some bumper stickers, be sure that your logo, name, and/or message are clear. People will be reading your stickers while they're in traffic after all. So it's best to make your bumper sticker easy to interpret, even if someone only gets a second to take a glance. Use big, bold lettering, and a logo that is simple, yet effective.

Start Printing Today
Building a crowd starts here. Count on Leapin' Lizard to print your custom band labels. We provide small-batch printing services that are ideal for bands who are printing their stickers on a budget — you can print as many or as few stickers as you'd like. Plus, we offer a variety of different printing materials, and we print in any color you can dream up. We hope that we've inspired you to design a killer sticker to promote your band — we're here to help with the printing presses.